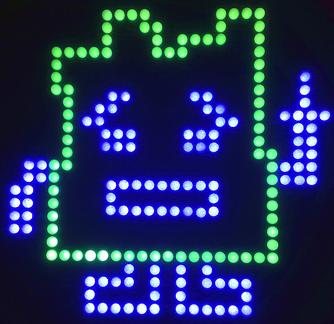 As far as viral advertisements go, I would have to name one of my favorites as being the ad campaign for the movie "Aqua Teen Hunger Force Colon Movie Film for Theaters" done by the network, Adult Swim. This campaign intrigues me for a variety of reasons, including being a fan of the show itself, the sadistically comedic nature of the ads, and the controversial public reaction to the ads.

Perhaps the most notorious portion of the campaign became known as the Boston Bomb Scare. Lite-Bright-esque signs of one of the show's characters flipping the bird were placed in several major cities throughout the US. Several weeks later, some rather paranoid people began reporting the signs, assuming them to be bomb threats, causing the scare, along with some lawsuits and loss of a few million dollars.

The campaign also included Adult Swim's television ads saying that they would premier the movie on TV a full 2 weeks before it hit theaters. It turned out to be an April Fools prank, in which they actually did show the first 3 or so minutes of the movie, but after this the movie muted and became a tiny, barely visible picture-in-picture box in the corner of the screen as the network's normal programming block aired. They also had a promotion in which several different fake endings to the movie (claimed to be real) were posted onto several internet websites, such as youtube and the movie's fansite.